It was one of the scorching weekends in Berlin when I decided to escape the heat and visit one of the best museums in Berlin - a bit in the shadow between Nationalgalerie and Pergamon - Neues Museum.
The museum is famous for one of the most stunning depictions of a woman - a bust of Nefertari (or Nefertiti). Every time I see her, I feel respect for a woman who influenced international affairs and brought years of prosperity to her people. Her eyes - calm, her lips - smiling in confidence. There is so much inspiration we could derive from her stillness. This could be a topic of a different post.
Today I'd like to focus on a different piece of art. In a room, before the queen, there is a pair of hands from a group statue. We don't know how the whole looked like. Was it Nefertari and her husband Akhenaten? Or sisters? We don't know. Yet what's left tells an even more important story.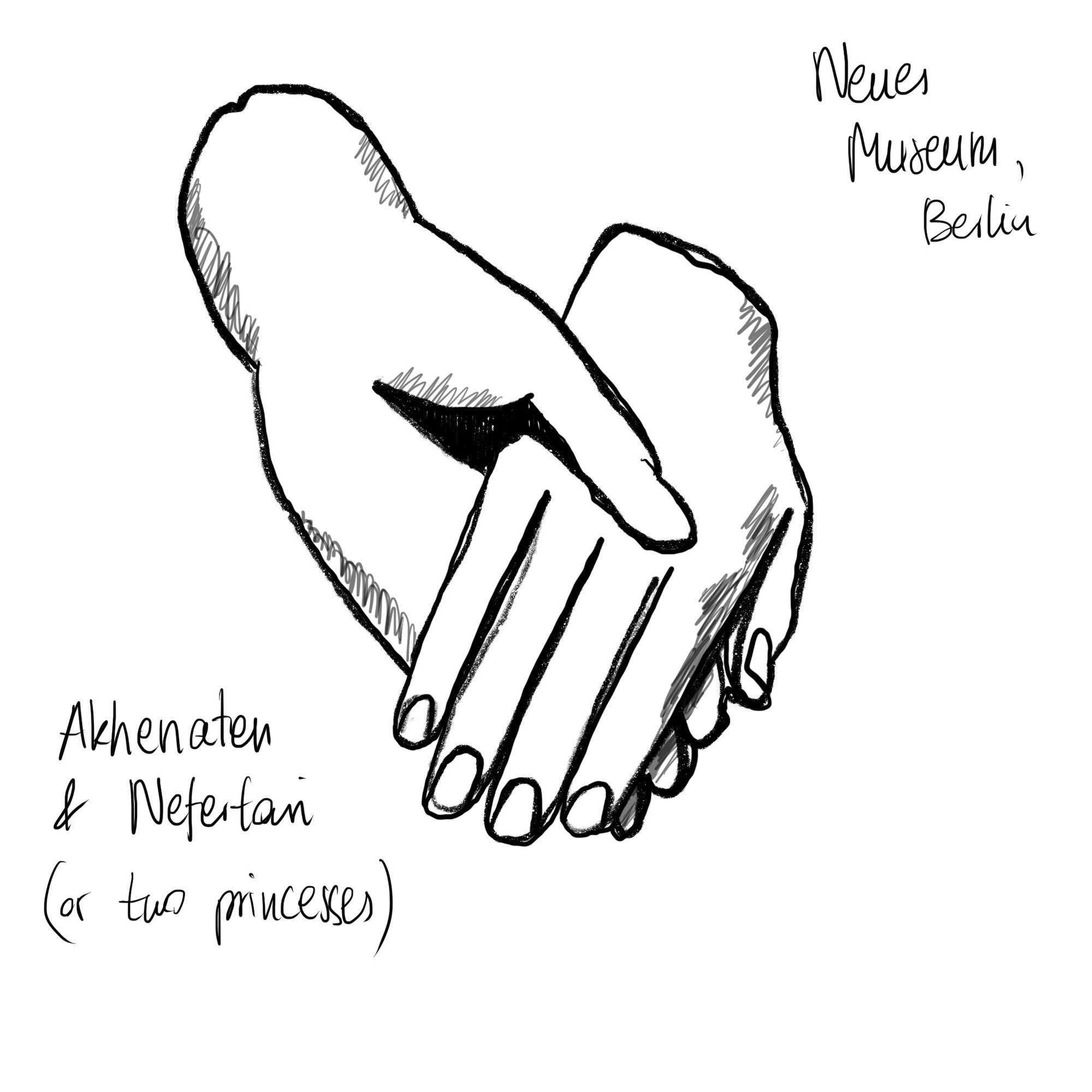 I'm not a tactile person, I consider a bubble of personal space sacred. Unless you're my partner. Then I demand hugs and closeness. 2020 brought us a worldwide health crisis and with it one of the most challenging safety measures I could have imagined - lack of human touch. I can wear a mask, work remotely and not go out. However social distancing, not being able to hug my friends exhausted me. I've realized it a few days prior when a friend gave ma a hug of solace (btw, we're both vaccinated). I sank into her arms as if my soul wanted to touch her soul too. An anthropologist Helen Fisher claims that our brains are wired to connect with others. Touch is one of the ways to build a connection.
Back to the Neues Museum, a room before Nefertari. A room that most of the visitors just run through so they can get to the biggest star of the collection. The Hands can be easily missed. Let's stop together and look at the sculpture. This is not a handshake which means Let's see who is stronger and more powerful.  The softness of lines and grip are a gesture of support and esteem. Whoever posed for this artwork must have been great partners or friends. When I stood in front of it a few days ago, I felt the universal, timeless longing for a gentle, loving touch of another human being. A touch that makes you feel accepted and appreciated. A touch that brings a sense of belonging.
I took a deep breath and thought about how remarkable it is that an object can send such a powerful message and remind us about the importance of touch. Even after 3000 years.